Cooking on an induction hob, is quick, easy, safe, and accurate. There are, however, special pots and pans needed, with a magnetizable base. GreenPan ticks all the boxes: all our pan ranges work perfectly on induction hobs thanks to their special base containing ferromagnetic particles.
A simple and efficient test for induction compatibility is to use a magnet. Hold the magnet up against the base of the pan, if the magnet sticks…then the pan is compatible for induction hobs.

If you use an induction pan on a gas hob, it can always be used on an induction afterwards. Be careful to avoid overheating as this could cause the pan to warp.
A point of note is the diameter of the pan in relation to the diameter of the cooking zone on the induction hob. A wok, for example, has a small base (+/- 15 cm) and in theory should only work on the smallest cooking zone.
For the best results, the diameter of the cooking pans should be larger the diameter of the cooking zone. Ideally the pan should be marginally bigger than the cooking zone. A pan that is much too big for the cooking zone might not heat up sufficiently.
Below is a clear illustration: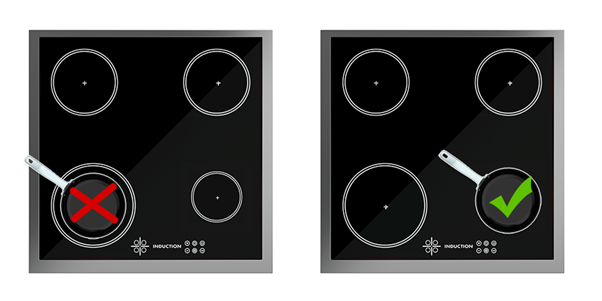 2
2
Was this article helpful?
2 out of 2 found this helpful